food
Granola recipe
Published 2020-09-09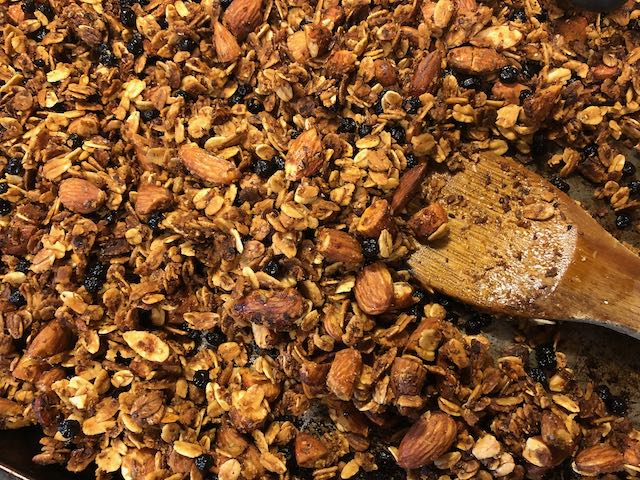 Adapted from Better Homes & Gardens New Cook Book.
Ingredients
Two cups regular rolled oats
1 cup chopped or slivered nuts (almonds, cashews, or other)
1/4 cup wheat germ
1/4 cup flax seed meal
2 Tbsp canola oil
3/4 cup honey
3 Tbsp ground ginger or cinnamon (or both)
1 cup dried fruit (blueberries, mango, goji berries—whatever you like!)
Instructions
Preheat oven to 300F
Put oil in small pan over medium heat, stir in ginger
When heated and aromatic, stir in honey, keep on heat until liquid
Stir together oats, nuts, wheat germ, and flax seed meal in large bowl
Stir in honey mixture until combined
Spread on greased cookie sheet, bake for 20 min, stir, bake for another 10 min.
Remove from oven, stir in dried fruit, and allow to cool. Granola will be soft when warm, but should be completely dry once cooled. If it's still soft or moist, pop it back in the oven for a few more minutes.
top